Shenzhen's Electronics industry Trading Hub Gets Back to Work -- News
Created Date: 06 Apr
0 Comments
Editor's Note: Huaqiangbei in Shenzhen is a sprawling electronics marketplace, an ecosystem where practically the entire supply chain comes together in tight proximity. Virtually empty a few weeks ago, seeing Huaqiangbei today is to believe in human strength and resilience.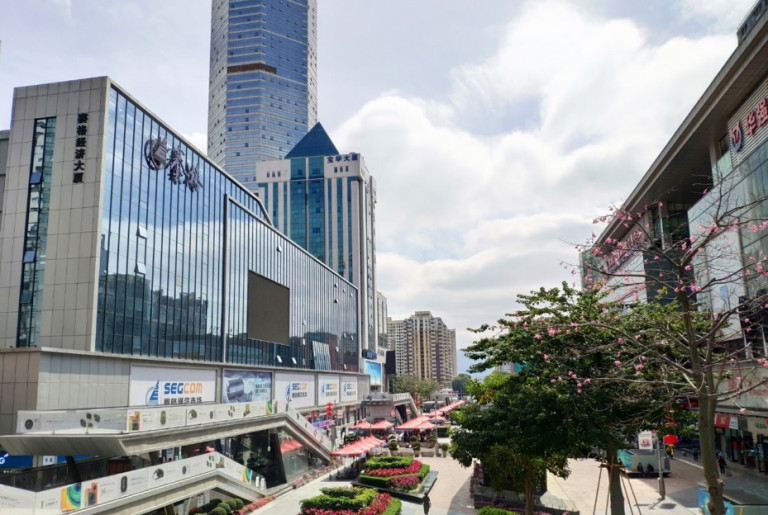 SHENZHEN, China — On February 24th, with the Covid-19 epidemic having gradually been brought under control, companies in Guangdong Province (where Shenzhen is) started to resume work.
So did Huaquiangbei, an important electronic component trading hub that was left deserted during the coronavirus outbreak.
The local government asked merchants to apply for admission in batches and allowed them to set up trading tents on Huaqiangbei's main street. The permit is good only for outdoor delivery and pickup. No trading is allowed indoors.
Recommended
实地街访:复工一周后的华强北商圈

I was cautioned by a friend "not to go." My friends, who sent me pictures of crowds in the district, joked, "Given this level of gathering, once there is one patient, it'll take an entire army [to clean up]!"
Followings are the photos I received from my friends.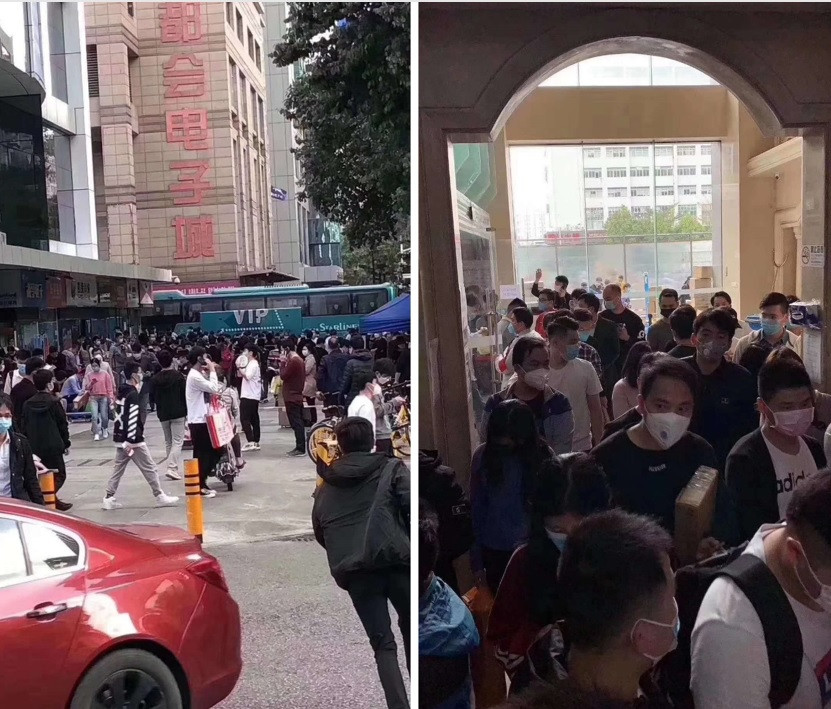 Nonetheless, after reviewing the most recent local media reports on the Huaqiangbei business district, I decided to take my chances. But I was armed with personal protection gear.
Arrived in Huaqiangbei at noon. At present, several major electronic markets in Huaqiangbei have not resumed internal operations. Instead, they have set up "outdoor tent businesses" with "contactless delivery" and online transactions on the main street to help merchants return as much as possible to normal.
I saw roughly 400 tents for outdoor transactions, divided into areas for merchant delivery, logistics receiving and dispatching, epidemic prevention and disinfection and sales, as well as a living supply and demand goods receiving area.
For example, here's how the buyer's delivery area works. A buyer can place an order. Then, a merchant goes to the store's internal warehouse to pick up the goods and packs them on-site to complete the contactless transaction.
For the logistics receiving and dispatching area, a courier company sends and receives the goods. The epidemic prevention and disinfection area is there mainly to process the area as people pass.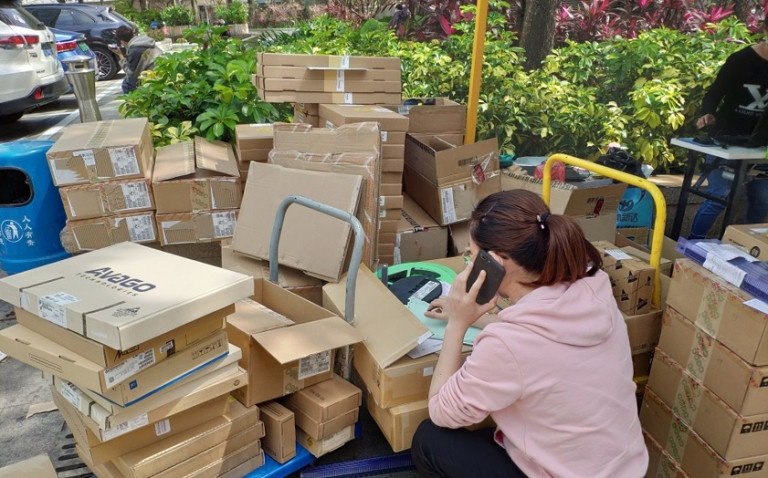 A female merchant who was delivering goods in the merchant's cargo transfer area told me that the company officially resumed work on February 17. At present, except for colleagues in Hubei who have not returned to Shenzhen, everyone else is working normally, she said.
Because the electronic trading market is currently forbidden to work indoors, the mall property has set up open-air tent trading. Workers not only deliver goods under the tent, but also use laptops, mobile phones and other mobile electronics to take orders online.
When I asked what types of components are urgent to ship, she replied: "At present, all electronic products shipped are very urgent. This affects the speed of customers' recovery."
A merchant preparing shipments.
In the epidemic prevention and disinfection zone, nearly ten merchants waited in line to apply for a store pass.
I interviewed a female merchant who was queuing. She said she resumed work around February 16th. When she came to Huaqiangbei last week, she could not enter, exit or trade. She was not allowed to apply for entry until this Monday to warehouse and outdoor delivery.
"My goods are in the warehouse in the mall. If I don't apply for a pass, I won't be able to get in, let alone deliver goods to customers." The merchant said, "I just got into line. There are many people today. I don't know if I like this process, but I have to follow the guidelines."
At 25°C, merchants are waiting in line to apply for a pass
I also happened upon a male merchant who had just acquired his store pass. It took him only five minutes from the queue to the successful application. The process is simple. Documents that must be provided are based on established records, which avoids repeated applications and alternative certifications. This streamlining reduces the burden of resuming work for small and micro-businesses.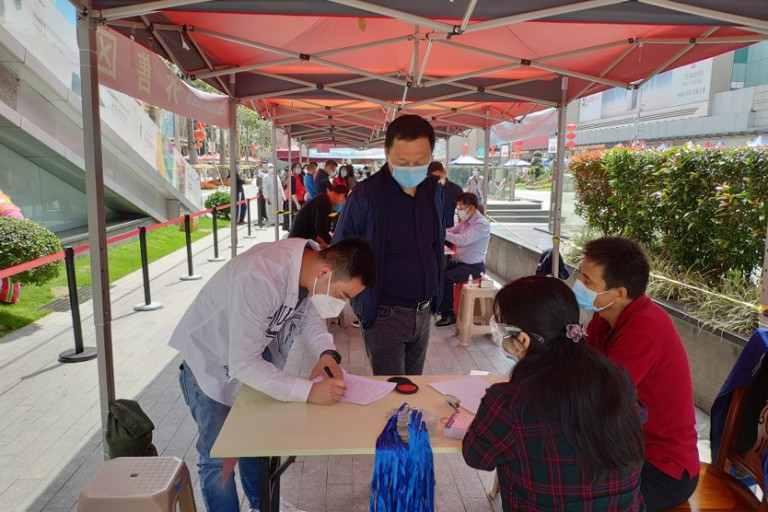 Shopping staff is assisting merchants to fill out application forms
According to the staff at the Shenzhen Second Store of Huaqiang Electronics World, admission to the mall is easy. Specific procedures and documents are consistent with resumption guidelines issued by the government. The declaration process is designed to be simple and convenient. Merchants who want to return to work must apply online, then ask for an ID card using personal ID. They must submit to a temperature inspection before entering the venue. Special staff conduct the inspections at the venue.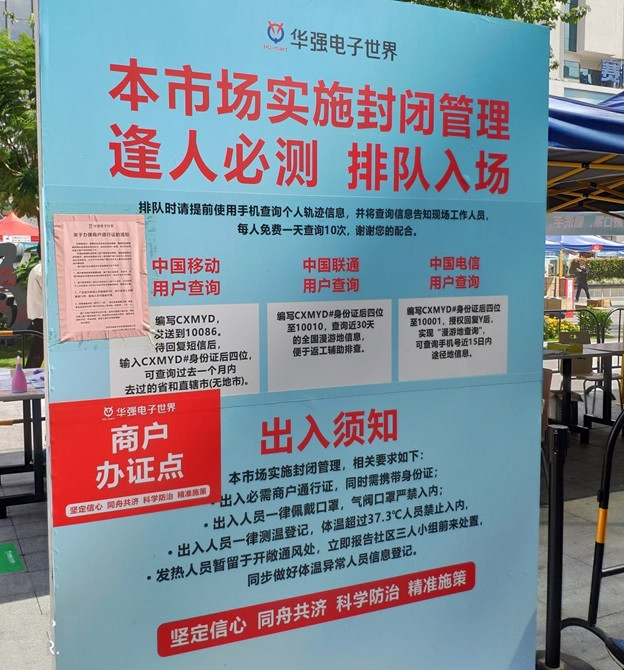 Entry Statements are placed everywhere
"I roughly estimate that the number of merchants who have returned this week to apply for passes is about 50 percent. Most of those who have resumed work are merchants mainly engaged in electronic components. There is sufficient inventory. As for mobile phone accessories merchants, their customers are ordinary consumers. They can wait a while," said the staff member.

All entering merchants need to go through temperature inspection
A male patrol policeman in Huaqiangbei Street told me he has manned the same post since before the Spring Festival, through the peak of the epidemic. He said that last week, Huaqiangbei was still deserted. This week, tents were set up, the pace of work was accelerating, the flow of people increasing, and the overall workload ramping up.
"Despite the increase in traffic, there haven't been a lot of people. It's good to see everyone still working in a coordinated and orderly manner," said the patrol officer while wiping the sweat on his forehead.
At present, Huaqiangbei merchants appear to be doing businesses mainly online. Field tents are only provided for inventory control, delivery and customer pickup. Face-to-face transactions are prohibited.
Logistics Receiving Area
On the sidewalk, I saw a merchant waiting for a customer to pick up his order. The merchant was hurriedly eating his lunch.
"I just resumed work in the past two days. I didn't plan to go to work this week. The main reason for returning to work is pressure from my customers." He said he had not had time to eat. After a hasty lunch, he had batches of deliveries that would take up the afternoon.
Which items are more urgent? He smiled. "All are urgent goods before they can be pulled out for delivery by themselves. The needs of various industries have are not fixed. But I think sensors are the hottest item right now. "
As for retail stores facing the street, more than 60 percent are already open for business. But temperature measurement is required for entry.
An employee at a commercial hardware store said in an interview that he resumed work on February 10 after his reinstatement application was approved. His store was among the earliest in Huaqiangbei's business district to reopen.
For the last two weeks, he has witnessed a huge change in the flow of people in Huaqiangbei. Traffic flow was almost zero before the 18th and the 19th. Businessmen returned to work this week and gradually scaled up. However, the current is mainly for those in the industry, with few ordinary consumers.
"Our stores are mainly offline, so the impact of the epidemic is huge. But after the epidemic is over, we expect that the business situation will get better. Because there are hundreds of orders pending, there will be new merchants coming in after the epidemic. There is a need to purchase commercial hardware."
Many businesses said that due to the epidemic, their business was much worse than before. Sources for goods and the survival of small customers became their concerns. While it is not easy to start business under tents, customers still come.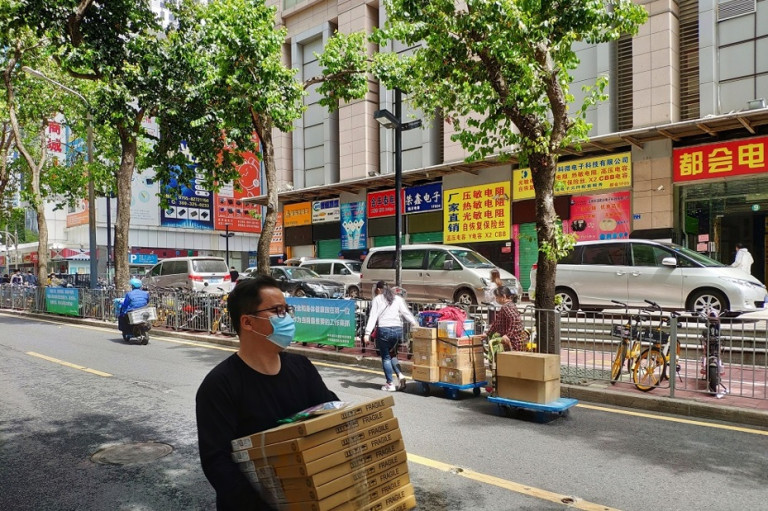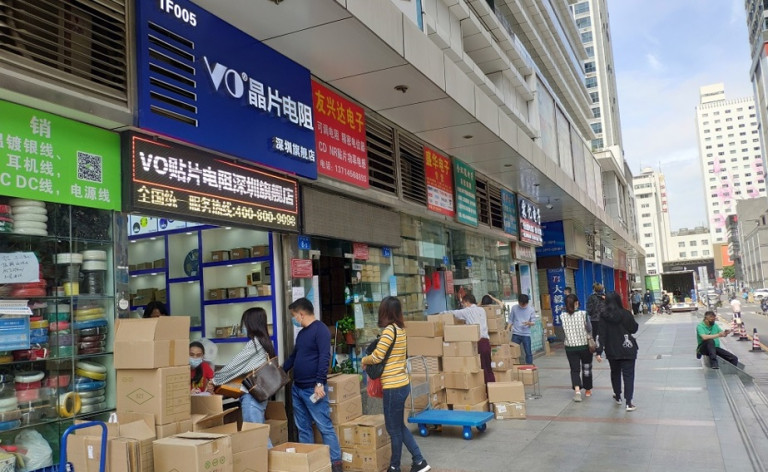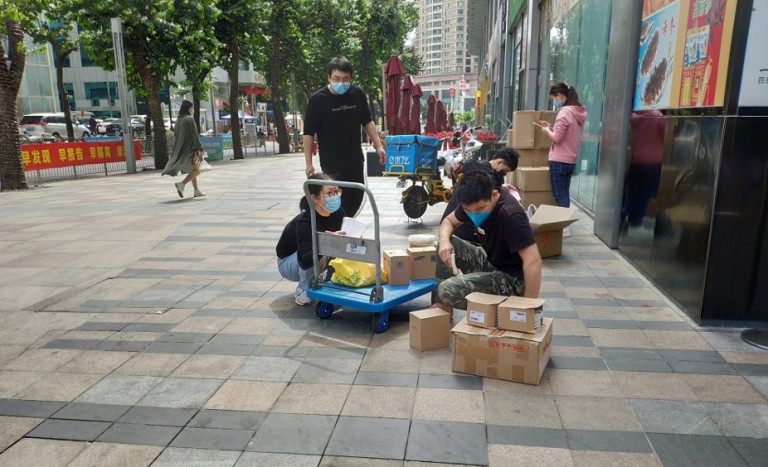 In the Huaqiangbei business district, all the pedestrians wear masks. All mall entrances and exits are equipped with temperature measurement devices. There are many policemen patrolling the road, monitoring businesses and guiding pedestrians. As work resumes, the universal sentiment is the determination to beat the epidemic and restore Huaqiangbei's vitality, as soon as possible.
I was reminded that the crisis is not over yet. Prevention and control cannot be relaxed. This includes wearing face masks, washing hands frequently and keeping distance from other people. Persistence, as they say, is victory.
Updates: As of March 20th, the office area inside buildings of Huaqiangbei Business District has reopened. Only those with normal temperature, who have gone through a 14-day quarantine routine, are permitted to enter. Stores indoors are also gradually opening, but the customer flow is obviously much less than before. Most of the commerce — negotiations and transactions — is conducted online, with customers picking up goods outside the buildings.
— Momo Zhong is assistant industry analyst of ESM-China, EE Times' sister publication based in China